Top Septic Tank Service Specialists Serving Green Cove Springs, FL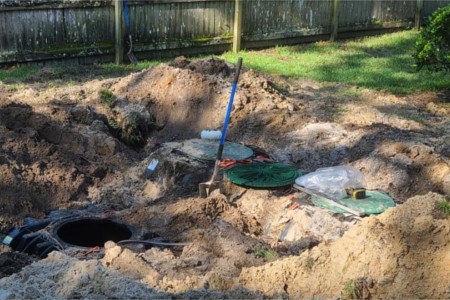 You and your family rely on your septic system each and every day. Champion Septic is a Green Cove Springs septic tank service contractor that wants you to know that you can trust us with services for this system. Our professionals can help ensure that this vital feature of your property operates in an efficient, reliable, and safe fashion.
One constant in all of our work is our goal to ensure that our customers are completely satisfied with the work we do. When you want high-quality septic tank services in the Green Cove Springs area, call on Champion Septic first.
Green Cove Springs Drain Cleaning
One of the most important keys to a properly functioning septic system is water flow. As such, a clogged drain can severely impact every aspect of your septic system and cause problems. When you have a clogged drain in your Green Cove Springs home, you should call a professionally licensed septic tank service provider for help.
The professional contractors at Champion Septic are here to help you with all your clogged drain-related issues. Through our drain cleaning services, our highly skilled experts can completely clear any obstruction, big or small. Our drain cleanings are conducted in a fashion to protect your plumbing system and to ensure that it operates effectively and efficiently.
Septic Tank Repairs Green Cove Springs
Many Green Cove Spring homeowners don't spare much thought to their sewer tanks until they start backing up, at which time it can be difficult to focus on anything else. If your septic tank or system has been damaged in any way, you can count on our septic tank repair experts here at Champion Septic to provide you with the comprehensive repairs you need to resolve the issue and get everything flowing again as it should be. We can help you with all of your septic repair needs, big or small. If you have any questions about our comprehensive septic tank repair services, give our team a call today.