Trust the Leading Middleburg Septic Tank Repairs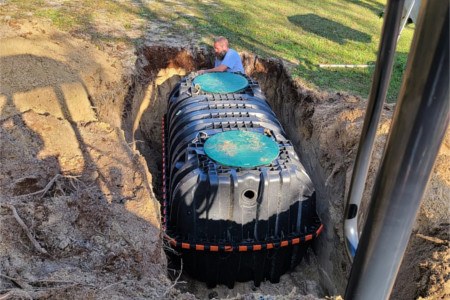 When you hire Champion Septic for your septic tank repairs, you can rest assured knowing that highly skilled professionals will always be available when you need them. Our team is available around the clock, twenty-four hours a day, seven days a week in Middleburg to offer septic tank repairs. If you have a septic tank on your property, it is absolutely imperative that you keep it operating in the best possible fashion. Septic tank problems are perhaps the worst thing that can happen to your home because your septic system plays a huge part in the comfort your home offers you and your family. At Champion Septic, our septic tank service for Middleburg is here to help you with this important responsibility.
Call Champion Septic today if you need to hire a professionally licensed septic tank repair contractor in Middleburg. Our courteous and polite staff is here to assist you in any way that we can. Our knowledgeable experts can answer any questions that you may have about your septic tank or our exceptional line of services. We can schedule your appointment today.
Expert Septic System Advice in Middleburg
If you are experiencing a sewer or septic tank problem, our septic tank repair specialists will be able to tell where the problem or stoppage may be and get to work fixing it for you. Trouble may begin when material from either the floating layer or the sludge layer exits the septic tank to the leaching field. This can clog the septic tank's piping system and bring harmful, unprocessed waste in contact with groundwater.
If your Middleburg septic system is backing up into your lawn, home, or street, the first thing you can do is find out where the service cleanouts are for your land or property. This will help your septic contractor to know right where to go so that you can get service as quickly as possible.
Septic System Maintenance & Repair
When your septic tank is overflowing or not working, the first thing that you should do is contact a professionally licensed septic tank repair contractor for help. At Champion Septic, our highly skilled team is ready to assist you whenever you need assistance. We will respond immediately to your septic tank emergency and will work tirelessly until the problem is resolved.
In order to ensure that your septic tank does not completely fail, it's also important to hire a professional to conduct routine septic inspections and maintenance on your system. Champion Septic is the repair contractor with the knowledge, experience, and skill you need in order to keep your system functioning properly at all times. With our help, you can always rest assured knowing that your septic tank is in the best possible condition.
Our Middleburg Septic Tank Repair Specialists Provide: