Expert Septic Tank Service Company For Crescent City, FL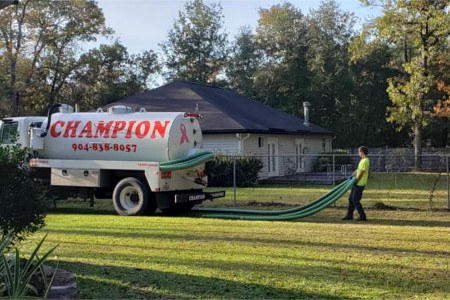 Are you in need of a reliable contractor for septic tank services in Crescent City? Champion Septic has years of experience tackling all sorts of septic projects and drain cleaning services. We know how important it is to make sure that your home's septic system is in perfect working order which is why we are always glad to lend a helping hand. When you give us a call to schedule a drain cleaning or septic inspection service, you're guaranteed to be satisfied with the work we do. With years of experience under our belts and the regular training needed to provide high-quality service and results, Champion Septic is the team you can count on most. Schedule an appointment with us today for the best septic tank services in Crescent City.
Septic Tank Repairs For A Healthy System In Crescent City
For the best septic tank repairs in the Crescent City area, call our team at Champion Septic. We specialize in diagnosing tough septic tank issues in order to come up with long-term solutions that last, not just temporary fixes. Your satisfaction is our number one goal so we won't stop until your septic tank problem is completely taken care of. We can help repair anything from an overflowing toilet to leaking tanks with ease. Don't worry about trying to tackle the problem yourself. Give Champion Septic a call and we will be more than happy to help!
Crescent City's Top-Rated Drain Cleaning Company
Clearing your drains of debris and clogs is a priority because when wastewater has nowhere to go, it renders your drains basically useless. The problem with drain clogs is that they will always attract more debris. So if you don't have a drain that is completely blocked, you soon will, and drains that are at a standstill will just get more packed with scum and other substances. We have state-of-the-art equipment designed specifically for removing tough clogs that are stopping your drains from being used adequately.
When you want to make sure your drains are functioning properly in your Crescent City home, be sure to call on Champion Septic for drain cleaning. We have extensive experience dealing with all kinds of drain clogs and blockages so there's not an issue we can't fix! We want to give you a long-term solution to your drainage problems and you can expect your drains to be working perfectly once we're done with them.