About Champion Septic – A Reliable Middleburg Septic Tank Contractor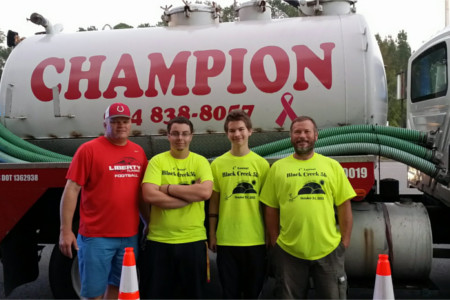 Champion Septic is the septic tank contractor that provides you with service seven days a week to ensure we are there to assist you whenever you need it. We proudly provide service to all communities in the Middleburg area. At Champion Septic, our technicians are professional septic tank contractors; they are experienced and well-trained. Septic tank service in Middleburg often requires that a small section of your yard be dug up, which can be messy without the right team working on it. We are proud to be an organized team who always puts things back just as we found them so you don't have to deal with any mess. We attribute our success as a company to our attitudes towards cleanliness, attention to detail, and organization. Our job is to make sure that your Middleburg septic system is properly maintained and working correctly year-round.
Our clients know that the proper care and maintenance of their septic system will have a positive impact on the quality of their groundwater and on the economic plans they have for their homes and businesses. We have a master plumber on staff and guarantee all of our services so you can rest easy knowing that your septic system is in good hands. The next time you're in need of a reliable septic tank contractor in the Middleburg area, be sure to contact Champion Septic. We offer septic tank repairs, drain cleaning, and other vital septic tank services for homeowners who want to have healthy, dependable septic systems for their homes.