Lake City's Top Septic Tank Service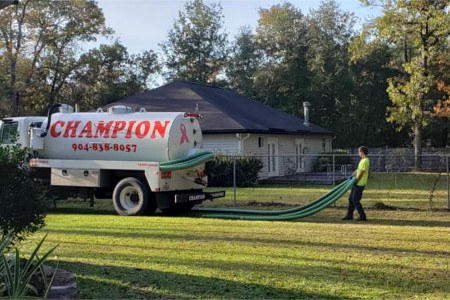 If you live in Lake City and are in need of septic tank services from a pro, don't hesitate to call on Champion Septic. We are the area's number one provider of septic tank services for homes and businesses alike. Whether you're in need of lift station cleaning or simply want to get your septic system inspected to make sure it's in good working condition, we're here to help. Our team is licensed and receives regular training on all aspects of septic system services so we can provide you with the best quality work and results possible. Call on us to be your reliable septic service provider in Lake City.
Septic Tank Repairs For Your Lake City Septic System
Your septic tank manages the waste that is expelled from your home, and if it isn't treated properly when issues arise, the tank could overflow or worse, back up into your home. Champion Septic is the Lake City pro you can call on when you need septic tank repairs. The best way to find out if you need septic tank repairs is with a septic inspection, and when the issues are located, we can get to work fixing them.
A few signs you might need septic tank repairs include:
Water pooling in your lawn or drain field
Foul odors around your home or property
Slow draining toilet
Brown or yellow patches in your lawn
Call Champion Septic when you experience any of these problems on your Lake City property and we'll make sure your septic tank gets the repairs it needs! A healthy septic tank promotes a healthy home, so be sure to trust a pro to take care of your septic tank and its needs.
Lake City's Go-To Drain Cleaning Team
Our septic tank service specialists are available 24/7 to provide drain cleaning services when Lake City homes need it most. Your home's drains run slower and less effectively over time as grease, soap, hair, and other substances build up in the pipes. When you run into a clogged drain that makes showering, bathing, or doing dishes harder than it should be, you've got a helping hand in Champion Septic. Just one job with us will prove that we're a reliable company you can trust with all of your drain cleaning or other septic needs. No matter how big or small your drain clog is, we will take it on with the utmost care! Call us today to get clear drains and a happier home.