Premier Septic Tank Service In Interlachen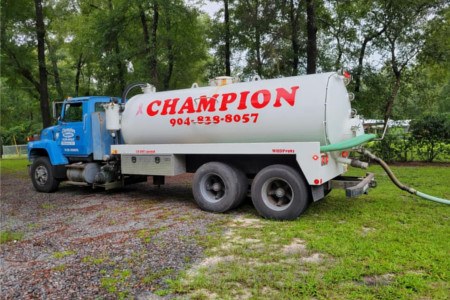 When Interlachen homes need septic tank services from a reliable professional, let Champion Septic be the company you call for high-quality results. Your septic system may be the most important system in your home as it carries waste away and processes it underground. However, when your septic tank isn't working as it should, it can create a giant headache for homeowners like you. Luckily, Champion Septic can easily tackle any kind of septic tank service you might need, no matter how hopeless the situation may seem at the time. We offer expert repair, maintenance, and cleaning services to ensure that your home stays safe, healthy, and functional. Please feel free to give us a call whenever you need work performed on your septic system in Interlachen.
Interlachen's Trusted Team Performing Drain Cleaning Services
Keeping your drains thoroughly and professionally cleaned will not only make your drain system work better but will also thwart future clogs. Here at Champion Septic, we know how tempting it is to use liquid clog remover bought from big box stores, but we strongly urge you to save your money and call us instead! Not only does the liquid not work half as well as a professional drain cleaning expert, but it also adds harmful chemicals into the mix that only causes more work for the contractor you'll have to end up calling. Let the team at Champion Septic quickly clean your drains and you'll be surprised at how easy the process is. We inspect your drains for any underlying causes to make sure that you stay clog-free for months to come after our service.
Septic Tank Repairs When You Need Them Most In Interlachen
Our septic tank service team can help you with any septic tank repairs you may need in Interlachen and the surrounding areas. We begin by performing an expert inspection of the affected area to determine the extent of any damage caused. This helps us come up with a thorough and long-term solution, not a stop-gap fix waiting to break next week. We can work on any type of septic system and have spent years honing our skills to perform adequate repairs for our clients.
For 24/7 septic tank repairs, please don't hesitate to call the team at Champion Septic. We know that the most frustrating and severe septic issues happen after business hours, which is why our business hours are when you need us the most! We attack every septic tank repair job with the skill and experience that we have earned over the years because we want to make sure you are taken care of when you need it most.