Septic Tank Pumping & Cleaning In Middleburg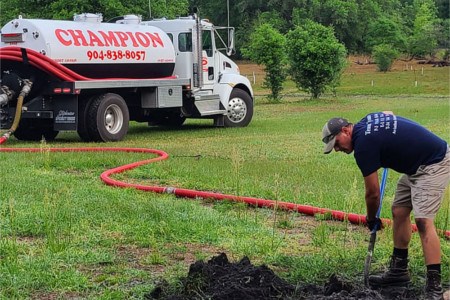 Call Champion Septic today if you need to hire a professionally licensed septic tank pumping contractor in Middleburg. As a property owner, you surely understand the importance of keeping your septic tank operating in an effective fashion. In order for your septic tank to function properly, you need to clean and pump the system on a routine basis. At Champion Septic, our Middleburg septic tank service pros specialize in septic tank cleaning and pumping services.
Our team has the knowledge, skill, experience, and equipment necessary to help you with all your septic tank-related needs. We would be happy to answer any questions that you may have about your system or our exceptional services. We can schedule your appointment today.
Why & When To Get Septic Tank Cleaning
The essential function of your septic tank is to remove solids from wastewater that your property produces. Once the separation occurs, the water is disposed of by the system. However, the solids, also known as sludge, accumulate in the tank. Much of these solids decompose, but sometimes a large portion will build up over time.
In order for your septic tank to function properly, this sludge and scum must be removed so that the separation process occurs effectively. If you fail to conduct routine septic tank cleanings and pumpings, these solids will eventually flow out of your septic tank, defeating the whole purpose of the system and causing a horrible mess on your property. At Champion Septic, we can prevent this horrible result via our routine septic tank pumping and cleaning services in Middleburg.
There are many factors that affect the time in which you should pump your septic tank. You need to consider the capacity of the tank itself as well as the volume of wastewater and solids that your household produces. Because the manner in which you use your plumbing system varies over time, it's best to conduct your septic tank cleaning on a regular basis. In addition, under Florida law, there are regulations that determine how often you must pump and clean your septic tank.
At Champion Septic, our Middleburg septic tank contractors can assess all of these factors for you, as well as septic tank repairs, in order to help you set a schedule that works best for your property. We can pump and clean your septic tank on a yearly basis. After our services, you can feel confident knowing that your system is in the best condition possible at all times.
Our Middleburg Septic Tank Cleaners Provide: