Hastings' Leader in Septic Tank Service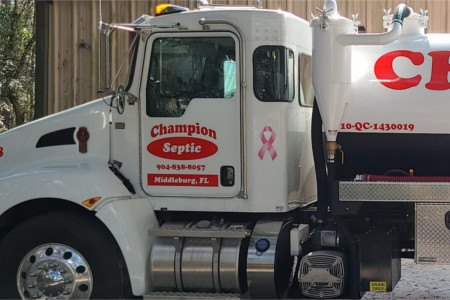 Champion Septic is happy to provide Hastings and the surrounding area with high-quality septic tank service seven days a week to ensure we are there to assist you whenever you need it. Our technicians are professional, well-trained septic experts with years of experience in the industry. Having a septic system that works well is the key to having a comfortable and healthy home. Our job is to make sure that your Hastings septic system is properly maintained and working correctly year-round so your home can always serve you. When you want the most reliable septic tank services in Hastings, call Champion Septic!
Hastings Trusts Our Pros For Septic Tank Repairs
Having a septic tank fall into disrepair can cause a lot more trouble than one might think. Your septic tank ensures that the waste and sewage from your home are transferred and treated properly so the wastewater can be filtered out. When your septic tank isn't working how it should, this process can be halted and create backups, pushing waste back into your home. When you smell unpleasant odors, your toilet gurgles when you flush, or there are wet spots around where your septic tank is located, it's likely you've got a problem. Luckily, you can call on Champion Septic for the best septic tank services in Hastings. We'll be able to assess and locate the issue and repair it in no time so your septic system can function the right way.
We Offer High-Quality Drain Cleaning Services For Hastings Homes
As with the other types of home systems that you have on your Hastings property, it is very important for you to have your drainage system cleaned regularly. More often than not, homeowners fail to have the necessary drain cleaning process carried out in their homes until problems start manifesting themselves. Even more importantly, you should see to it that you have this process performed at least once a month in order to ensure that you will not have to face any form of inconvenience. This way, you can ensure that you will be able to maintain the integrity of the components that make up your drainage system.
Regular drain cleaning is a necessity when it comes to maintaining the comfort of your home. If you do not have your drainage system flushed out regularly, there is a possibility that you will encounter issues that cause stress, hassle, and cost a lot to fix. With this said, it is highly advised that you hire a pro like Champion Septic to do the job as regularly as possible. This way, there will be no problems or inconvenience for you and your home will still stay healthy and functional.