Septic Tank Service Specialist Helping Clients In Alachua, FL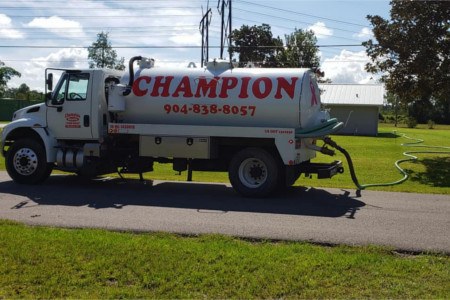 Champion Septic is your local Alachua septic tank service provider who is proud to be serving the area with honest, affordable, quality services. Our customers are important to us, which is why we've worked hard to build relationships with them with each job we take on.
Our professional septic tank service specialists make it a point to provide personalized services that are focused on quality workmanship and thorough service. Whether you're needing drain cleaning, lift station cleaning, septic pumping and cleaning, or any of our other services, you'll always get honest rates and skilled workers when you choose Champion Septic. Call on us the next time you're in need of unmatched septic tank services in the Alachua area.
Specialized Septic Tank Repairs For Your Home In Alachua
When you need septic tank repairs for your Alachua home, look to our professionals at Champion Septic, where you get more than just one-size-fits-all repairs. We strive to ensure our customers have personalized services that meet the unique needs of their homes.
That means when you have a repair need, we respond quickly, have all the right equipment to test and repair your septic systems, and do all we can to ensure you don't suffer from the same problems over and over again. We know that your septic tank repairs need to be handled right the first time.
For our professional septic tank specialists in Alachua, good service also means ensuring our customers have high-quality repairs at affordable rates. You'll get great rates, high-quality repairs, and much more when you count on our plumbers at Champion Septic.
Alachua's Expert Drain Cleaning Specialists
Your Alachua home's drains could be harboring any number of substances that can make you and your loved ones ill. Bacteria can grow in your drains when there's debris building up in your plumbing pipe traps. Cleaning your home's drains can go a long way to keeping your plumbing system and your family healthy. Whole-home drain cleaning can be done to ensure all your drains remove your wastewater efficiently.
If you do end up with clogged drains, Champion Septic can help get rid of the clog. Some clogs are more difficult to handle and need our high-quality tools and industry techniques that blast through hard substances like scale buildup and tree root infiltration in your sewer lines. Whether it's a regular clog you need handled or our specialized cleaning with water jetting, we're your go-to septic tank service professional who can take care of all your Alachua drain cleaning needs, any time of day.